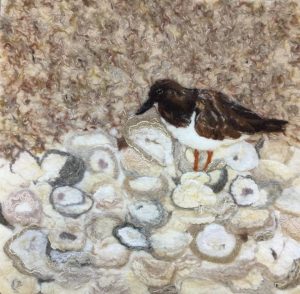 Sunday 15 April from 6pm-9pm will be the private view for the latest artist to exhibit in the salon, Lindsay Wilkinson.
Lindsay is a felt maker and occasional photographer. Her pictures are inspired by the scenery and birds of the North Kent coastline. The basic technique is 'wet felting': laying unspun wool fibres out in layers, adding hot soapy water then rubbing and rolling the fibres to create a hard wearing 'fabric'.  Some pictures are finished with needle felting (using a barbed needle to compact the wool) to add detail such as birds' eyes and beaks.
Felting takes quite a bit of time and a lot of elbow grease. Each picture takes several days' work and all pieces are unique. Lindsay moved to Stoke Newington about 25 years ago and for the last eight years has divided her time between London and Whitstable. She started felt making about six years ago and is largely self-taught. Since she was made redundant last year she has been able to spend more time felting, working from a small studio in Faversham. She normally sells her work in Whitstable and Faversham.
This is her first London exhibition, which continues until the end of June at Beaucatcher.
There will be music from local band Broken Islands (described as sadcore country covers) plus congeniality for all. Everyone loves a Beaucatcher art party, so please come join in!