This past weekend Beaucatcher played host to live music and art as part of The Stoke Newington Music Festival.  We had quite a lot of attention for the fact of being a hair salon as a venue which is great, but we see it as a obligatory pleasure to share our space with local artists and musicians because it is such a magnificent way to promote and share the fine talent available in our local area. 
The festival was organized by
Maggie
at
Mascara Bar
for the same aims and to raise money for the charity
Brook
– who provide services toward the sexual health and wellbeing of young people.  Everyone involved donated their time and talents to make SNMF fully able to entertain and fundraise. There were so many amazing spectacles in N16 this weekend – here is a little bit about what happened at Beaucatcher.
Bands and artists who appeared: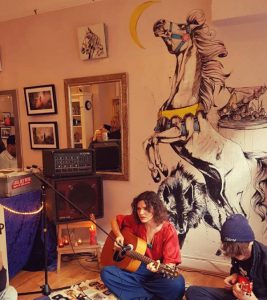 Allison Sleator
set up her show on the floor and was so gently interacting with her audience – even including an impromptu sit-in by young legend
Hal Townshend
who joined in on ukulele. Allison has the most beautiful voice you may ever hear.
Duncan DeMorgan
of 
Rotten Burroughs
played a very dark and moody set in his goth cowboy way with songs which brought to mind
Wovenhand
and
Nick Cave
. He's a stunning performer with a gorgeous guitar method.
Carola Emrich Fisher
fairly blew our minds with an opera performance we will never forget. She was educational in her explanations and everyone was awed by her vocal control. I never knew that opera could be so wonderful to cut hair to, so I'm adding her to my salon playlist right away.
Alan Wilkinson
is a major local celebrity from experimental jazz world.  He gave us a gentle set of sumptuous sounds on his saxophones which really was out of this world.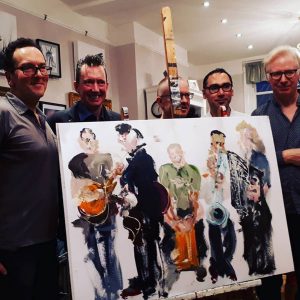 The Volunteers
are a favourite local pub band – sort of super-pro alt.country who covered
Tom Waits
to
Hank Williams
, and had a huge crowd whooping and singing along. Their original songs were exquisite and now I have a new favourite group.
During Sunday,
Gina Southgate
painted live the musicians and absolutely wowed everyone with her big-board renditions of what we had watched. Gina is a show all by herself.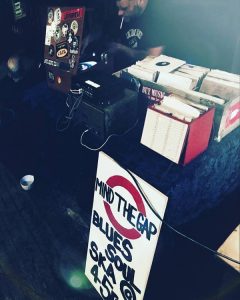 All weekend between and around the live music we had DJ
Charlie Hangdog
on his
Mind The Gap
set up playing blues, ska and more from days of old on proper crackling 45 rpm records. All of our clients loved his sets and I would highly recommend him for parties and events. So nice to have a DJ make such an effort.
And yes, during everything our lovely hairdressers looked after our clients, cutting and colouring away. So what if it's a weird thing to do? Life is short and tremendous. We need to share space. Beauty, music and art are natural collaborators when it comes to experience and expression.
Thanks to all for your support, especially the musicians and artists and our amazing clients.
Xoxom Maryna Fontenoy
Owner
The Beaucatcher Salon