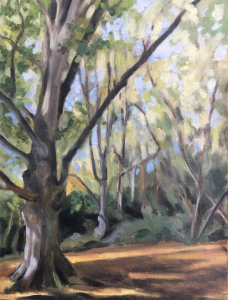 New art in the salon! Our next artist is
Susanna Burton,
a long time Beaucatcher client and Stoke Newington resident for 20 years.  Susanna works as a scenic artist painting for the
Royal Opera House
.  Her new exhibition at Beaucatcher will begin next week and run through the end of March.
"These paintings are of Hampstead Heath and mid Wales", she explains, "both places I've visited repeatedly over the last two years to paint. They are oil paintings painted in situ in all seasons and all weathers. The paintings of individual or groups of trees are in portrait rather than landscape arrangement as I think of them as character studies."
There will be a private view for Susanna in February, date to be confirmed. Meanwhile, do stop in and have a look.